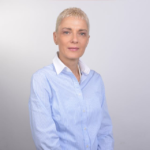 Nurit Aniv-Bar
Directora de Desarrollo de Negocios para SIT Israel y SIT4
And also (or more importantly):
Family first
Avid jazz fan
Sports enthusiast
Curious learner
Directora de Desarrollo de Negocios para SIT Israel y SIT4
As SIT's Director of Business Development for Israel & SIT4, Nurit utilizes her years of experience in the Israeli ecosystem to explore new target markets, engage with potential clients and startups in Israel, and cultivate strategic relationships.
After more than 25 years in the hi-tech industry and prior to joining SIT, Nurit worked as a strategic consultant for startups, helping them navigate the startup ecosystem. During this time, she worked on business development and assisted with networking for venture capital funds, forums, and investment groups. Nurit has worked for various multi-national companies listed on NASDAQ and has held senior level positions at Microsoft, Mellanox Technologies, NICE Systems, among others.
Nurit is an avid jazz fan. As a yearly tradition, Nurit and her family attend the International Jazz Festival in Eilat. Nurit enjoys cooking and crafts savory creations for weekly Friday night dinners, a large family get-together that cannot be missed. Nurit is an open-minded go-getter, who is curious, eager to learn, and excited to apply new ways of thinking to her work at SIT and beyond.

+972-54-474-1183

nurita@sitsite.com

Languages:
Hebrew | English