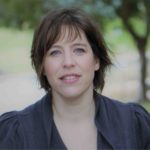 Naama Nachmani
Facilitadora de Innovación & Gerente de Cuentas
And also (or more importantly):
Best Aunt Ever,
Café-holic
Nerd
Facilitadora de Innovación & Gerente de Cuentas
Naama is an Account Manager and a Facilitator in SIT's International Team.
Prior to SIT, Naama has spent 15 years in the hi-tech world, focusing on software and SaaS. Always customer-facing, Naama specialized in bridging the gap between customer and technology, working to plan, implement and execute technical projects across continents, cultures and technologies. Having worked for huge silicon-valley companies as well as small Tel-Aviv startups, Naama brings knowledge, understanding and passion for finding the right process and methodology for each customer. She brings great international experience, having lived and worked in 4 countries and led projects in many more.
Naama has a B.A in International Relations and Humanities from the Hebrew University in Jerusalem and an LLM cum laude in Public International Law from the University of Utrecht in the Netherlands, where she interned in the international criminal courts. Naama is fluent in Hebrew and English, and is still hoping to one day master German.

+972-3-545-6033

naama@sitsite.com

Languages:
English | Hebrew