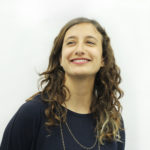 Jen Haklai
Facilitadora de Innovación
And also (or more importantly):
Travel Enthusiast
Cookie Monster
Day (& night) Dreamer
Facilitadora de Innovación
Jen joined the SIT4 team as a facilitator. Jen has extensive experience in writing and editing in the areas of academic research, documentary radio shows, study programs, travel guides and advertising. Formerly she was the editor of Metropolis, an urban magazine which dedicates each of its issues to a specific city in the world, examining its urban development, environment, history and culture.
Jen completed her MA in Sociology as part of the Interdisciplinary Program for outstanding graduates of Tel Aviv University. Alongside her studies on changes in civic society, socio-economic processes and urban renewal, Jen has been engaged in social initiatives and volunteer work with a human rights organization. Via an assortment of tours, seminars, festivals and work, she has travelled extensively around the globe and hopes to continue doing so in the future.

+972-3-545-6000

Jen@sitsite.com

Languages:
English | Hebrew