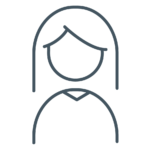 Hila Steinitz
Directora del Estudio Gráfico de SIT
And also (or more importantly):
Gets Things Done, Aesthete, Mom, Good Listener
Directora del Estudio Gráfico de SIT
Hila Steinitz is on the print and design studio team and also an international coordinator for logistical and technical aspects of projects at SIT. Within these roles, she is a partner in the execution of major production projects and is responsible for the technical aspects of major tenders including locating co-suppliers.
Hila joined SIT after a career in PR and production in the music and TV industries including work as a line producer in local Israel TV productions. She is passionate about design, arts, culinary and fashion matters and has undertaken several business initiatives in these areas including a specialized catering service for private events and a boutique fashion business of hand-made daily women's wear. She is an avid creator of sustainable artifacts as solutions to everyday life challenges.

+972-3-545-6000

hilas@sitsite.com

Languages:
English | Hebrew